Overview
This is where we value your strategic mindset, technical expertise and passion for innovation. If you are someone who has the ability to transform strategies into actionable plans while also demonstrating empathy and a willingness to assist others, this might be the right opportunity for you. Your contributions will make a significant impact on Baxter's mission to save and sustain lives.
Paid Time Off

Employee Health &
Well-Being Benefits

Continuing Education/
Professional Development

Support for Parents

Employee Assistance Program
Success Profile
What makes a successful Information Technology team member at Baxter? Take a look at some of the top traits we're looking for and see if you're a fit.
Strategic Business Partner
Communicator
Curious
Results driven
Collaborative
Problem Solver
Sr Spec, IT- Quality Systems
This is where you save and sustain lives
At Baxter, we are deeply connected by our mission. No matter your role at Baxter, your work makes a positive impact on people around the world. You'll feel a sense of purpose throughout the organization, as we know our work improves outcomes for millions of patients.
Baxter's products and therapies are found in almost every hospital worldwide, in clinics and in the home. For over 85 years, we have pioneered significant medical innovations that transform healthcare.
Together, we create a place where we are happy, successful and inspire each other. This is where you can do your best work.
Join us at the intersection of saving and sustaining lives—where your purpose accelerates our mission.
About Us: Baxter´s mission
Our products and therapies touch the lives of millions of people around the world every day, which is why we are focused on transformative innovations that bring smarter, more personalized care to all of us. For 87 years and counting, we have been at the critical intersection where the ideas that save and sustain lives meet the providers who make it all happen. And now, we are determined to realize our boldest opportunities to transform global healthcare for years to come.

Your role at Baxter
Nothing changes if nothing changes, which is why Baxter is transforming our global IT function—into one that will strengthen partnerships and enable smarter, more efficient and connected business processes. In the dynamic healthcare industry, we need to be ready to face new challenges and opportunities. As we learn, we must be agile and innovative to reveal new ways of working. Technology and our digital capability will help create a more efficient and innovative ecosystem to enable our employees, customers and products to drive better outcomes for patients worldwide.  
We are at the critical intersection where robust IT infrastructure and networking support meets the physicians, nurses and care givers who save and sustain lives. Together, we can build upon Baxter's rich heritage to advance the next generation of transformative healthcare innovations. Together, we can change how IT meets healthcare. Together, we are Baxter.  
This is where technology fuels purpose-driven work. Where your purpose accelerates our mission.
As a Senior IT Specialist- Quality Systems, your main purpose will be to participate in the development of complex validated systems and applications that meet the needs of our global operations. You will leverage your experience as a developer to design and implement global solutions, considering business requirements, technological advancements, and regulatory compliance. 
Your expertise in working with validated systems will be instrumental in ensuring that the solutions you develop adhere to rigorous quality standards. You will play a key role in automating, simplifying, and optimizing both new and existing validated applications, enhancing their efficiency and effectiveness. 

Your team
The Global Information Technology Centers are focused on being a stronger business partner, aligned to deliver on the technology needs and maintaining global support and shared expertise to advance digital capabilities across the enterprise. Our IT function is made up of employees with varied backgrounds and knowledge. This diversity of skills and expertise allows us to bring creative and innovative solutions.
What you'll be doing
•    Develop and deliver on assigned technical aspects of projects 
•    Collaborate with external development teams 
•    Interact regularly with internal business partners to understand their business and develop needed IT solutions 
•    Review project teams' work to ensure quality (design walk-through, code review, test results, etc.) and alignment to the processes, standards, and regulatory requirements 
•    Participate in the research, analysis, selection, and implementation of new tools, technologies and/or services. 
•    Partner w/the validation & business teams to develop & execute validation test cases, scripts and plans.  
What you'll bring
•    owledge of one or more of the following languages: 
o    Java 
o    C#/.NET 
o    PowerShell 
o    ReactJS 
•    Knowledge of database management systems, Oracle and SQL Server. 
•    Strong written and verbal communication skills, including ability to present to global teams 
•    Strong problem solving, analytical and documentation skills.  
•    Solid computer system validation experience. 
•    Sense of urgency and strong follow-up skills 
•    Must be able to function effectively as a member of a team 
•    Bachelor's degree in science, engineering, or technology and meaningful work experience required 
•    5+ years of IT system development experience is required, preferably with quality applications 
•    AWS Cloud certification is preferred 
•    Experience working in a regulated environment is a plus 
Reasonable Accommodations
Baxter is committed to working with and providing reasonable accommodations to individuals with disabilities. If, because of a medical condition or disability, you need a reasonable accommodation for any part of the application or interview process, please send an e-mail to [email protected] and let us know the nature of your request along with your contact information.
Recruitment Fraud Notice

Baxter has discovered incidents of employment scams, where fraudulent parties pose as Baxter employees, recruiters, or other agents, and engage with online job seekers in an attempt to steal personal and/or financial information. To learn how you can protect yourself, review our Recruitment Fraud Notice.
114446
Address
Explore this location
#5153, 5th. Floor
Boulevard Puerta de Hierro
45116 Zapopan, JAL
Mexico
Explore this location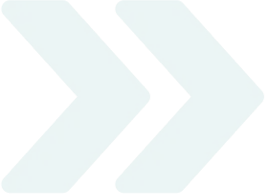 Hear from Our Employees
Our company is enriched by a diverse population of individuals in more than 100 countries that work to solve, innovate, manufacture and drive better healthcare options for patients around the world.
Meet Anchal Tayal, Principal Software Engineer, India
"I am proud to be associated with a company whose mission is to "Save and Sustain lives." As a Principal Engineer, my key responsibility is to design and implement the new product features in the most efficient, effective, and maintainable way. These products are designed to empower our patients worldwide. It has been an exciting journey so far full of learnings and a sense of satisfaction in what we do and how it impacts lives."
Meet Jorge Ramirez, Senior Specialist - Mexico
"Technical skills are really important, but in my case, Baxter helped me in developing soft skills like leadership, work ethic, problem-solving, adaptability, and communication. I've learned this by following the example of my manager and some other valuable people. Baxter was the first company that offered me a career plan since the beginning, that was a game changer for me."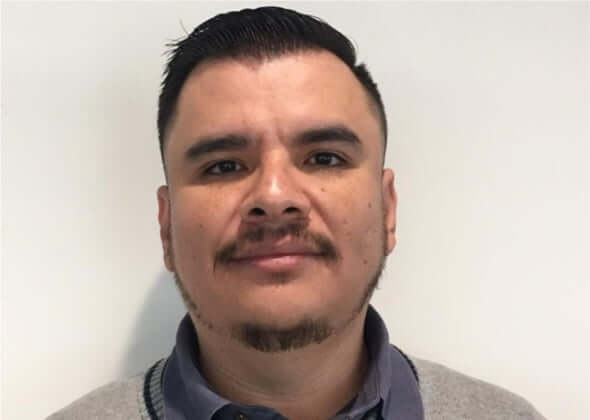 Meet Malgorzata Grzesik, Senior Project Manager, USA
"I feel that everything that I know at work, I learned it from others. We have amazing people from all over the world with different backgrounds, whom I get to work with and learn from every day. I am part of an organization where developing new skills and growing professionally are welcomed and embraced. I have been given many opportunities to grow and take on new challenges. I am also excited and ready for the new ones to come along. With the support of our IT leaders and amazing teammates, we do great things."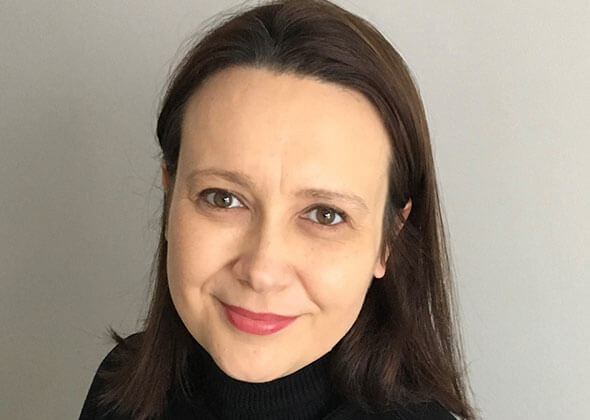 Hear from Our Employees
Our company is enriched by a diverse population of individuals in more than 100 countries that work to solve, innovate, manufacture and drive better healthcare options for patients around the world.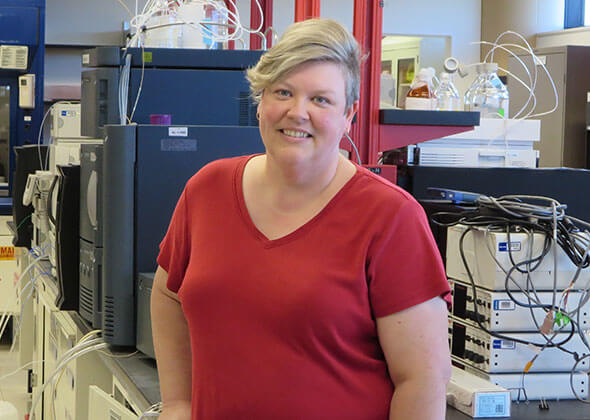 Meet Reagan, Senior Research Scientist in the United States
"For me, the best thing about working at Baxter is being able to do work that's important to people—especially patients—outside of Baxter's walls. Inside our walls, I get to work with a fantastic team, and we know we're making a difference."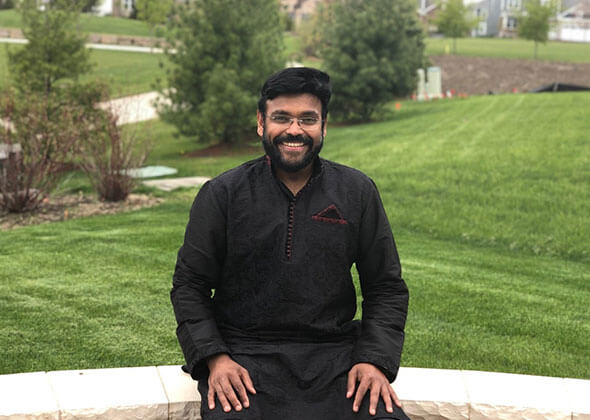 Meet Karthik, Director of Renal Care R&D - Digital Health & Co-President of the Asian Leadership Network Business Resource Group, United States
"I'm excited about my role because I believe that digital initiatives can make a tremendous impact on lives by allowing people to access the same therapies and have similar care — whether in a hospital, a healthcare clinic, or the patient's home — anywhere in the world."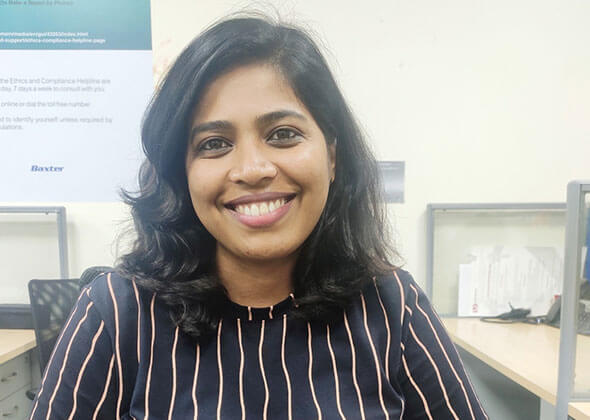 Meet Amitha, Research Associate in India
"Coming from a non-healthcare academic background, my current role has offered ample opportunities to learn a lot of new things. Leaders at Baxter are motivating, help us grow and provide a collaborative environment. The role gives me opportunities to have technical discussions with peers and subject matter experts globally, to learn interacting with customers, and manage project deadlines and deliverables. I am excited about shaping my career here at Baxter."
Join Our Talent Community
We're grateful for your interest in a career with Baxter, and would like to get to know you. Joining our Talent Community is a great way to stay connected, learn more about Baxter, and help our recruiters find you if there's an opportunity that aligns with your background, skills and interests.
Join Now